Death is the main highlight in the closing chapters of Death Note. Pun not intended though it seems that way. Throughout the story, a lot victims have been claimed including Light's father, Souchirou and L. Speaking of L, his real name is still not revealed until and this remains a big mystery of the story. For this week's episode, death is indeed the main event of the story. To be exact, three deaths. Matt who was short-lived, Mello who is Light's nemesis and Takada who serves as a tool for Light to ensure him a definite conquer as Kira. The episode this time is thrilling as ever. Closest we can get to the episode 23 and 24 because Death Note is reliving its high speed drama and the final showdown with L. This time is yet another battle with L and L is defeated once again as Mello was brought down by Kira. However the fast pace of the episode rendered the viewers clueless of some details of the story. Questions were brought up but it remains unanswered.

Light figured everything goes according to his plan.
I must say, I really like the opening of this episode of Death Note. It is rather dramatic in that sense and possibly feeling a little at peace as the opening shows the daily activities of all the characters spanning for several days. When I referred to Memento, it is called a montage. Then a montage it is. Among the focus was being watched (by Mello), Giovanni tailing Mikami who is about to carry out the next step of Near's plan, Mello who refuses to eat chocolate at one point (possibly by the tremendous stress of his work). As this montage continued on without dialogs, the silence was broken by Giovanni who reported of his accomplished duty as told by Near. Later Mikami scrutinized the notebook under a microscope. Then after that, Takada (Kiyomi) contacted Mikami and passed on Light's message to him. Mikami confirmed to have received it and also mentioned "I have confirmed it." Takada who was a little surprised, understood that message. She straightly sent a text message to Light, saying "I want to meet you again." Actually that was an implicit message (as mentioned from the previous episode) to confirm that Mikami was "confirmed it." It was unknown but I speculate it as that Mikami was being followed. But it could be something else. All Light needs to wait for is a call from Near for a meeting. Light was very sure to have predicted how Near will act. Meanwhile Giovanni reported in to have checked the notebook and confirmed that Mikami has written one page a day for the past three days. Other than that, Mikami has not acting suspicious. Hearing this, Near decided to commence his plans.

Near contacted Light to request for a meeting to reveal something in regards of the Kira investigation. So far things work out as Light has planned for. Light expressed his doubt because Near was convinced that Light is Kira and surely he should not reveal his face to him. However Near said that by showing his face, he will able to show him what he wanted and put an end to the whole case. The ultimatum. It is the final resolution for the duel against Kira. Light agreed to the meeting. Near wanted all members from both sides to attend the meeting – both SPK and the Japanese investigation team. From SPK, that makes it four including Near himself and the Japanese police will make it five including Light and Mogi who was under SPK's custody. Near promised to release Misa but she was not included in the meeting. Near also have decided on the venue at a vacant warehouse in Daikoku wharf, also known as "Yellow Box" – the showdown is expected to be here. Near also wanted someone from the Japanese investigation team to bring along the notebook with the excuse of taking care of the notebook because when everyone is going, no one will look after the notebook. Near gave his word to not to attempt to steal the notebook away from them. Also to confirm that the notebook is real, Near wanted Aizawa to confirm it. He also wanted someone else other than L (Light) to carry the notebook, justified as Near suspected him to be Kira. In exchange, Light will choose the person to carry the notebook. Now for the crucial part, the time. Judging that Mikami uses the notebook at midnight, Mikami must have chosen his targets during the day. Taking time into consideration, Near picked the time at three days later on the 28th of January at 1 p.m. However that time is as expected by Light, knowing all too well that Near has investigated on Mikami. So Light agreed to it and both of them ended the call. Both of them claimed to have predicted each others move and was confident to claim victory.

This is just another game for Near.

Light had a meeting with Takada as usual and informed her about his meeting with Near soon. He gave his final instructions to Takada and Mikami to ensure that Near will be killed. The next day, as usual Takada went to work at NHN station under heavy security. Life of a celebrity was never this serious. As Takada moved out of the car, she was greeted by the cheering fans. Nearby a car is approaching the TV station. Then the driver made a quick entry to shoot a smoke bomb in front of the station. After that, he drived away. As Hal was about to bring Takada into the building, a motorcyclist came to them. He stopped them, saying that to be inside the NHN building is dangerous under such attacks. The man was Mello and Hal recognised him. Though hesitated, Hal agreed with Mello and allowed Takada to be taken by him. Hal then instructed several bodyguards to follow Takada and the rest of the team to pursue the attacker. On the road, Mello eluded the guards who were following them and have Takada in his custody.

Hi Matt!

"Check out my new ride."

The kidnapping of Takada was all over the news while the investigation team was baffled over the unexpected incident. They suspected Near was responsible for it but Light thought that it is unlikely. Then Near called in. Now to the pursuit of the attacker, the guards were on a high speed chase with him. The attacked was unknown then but for the sake of it, this partner in crime with Mello is Matt. Matt was cornered by the guards on the standby at an intersection and he halted to a stop. Matt was composed at such desperate moment and wondered of how many guards does Takada have. He got out of the car and tried to negotiate with them as the guards were pointed their guns to him. Unfortunate for Matt, there was no salvation for him and the guards opened fire, killing him instantly. Takada who was still on the bike, realised that her abductor is Mello or Michael Keehl. She knows his real name already? They arrived at a container truck. Inside Mello instructed Takada to strip off all her clothes and place it inside a box while pointing a gun at her. To the least, Mello was kind enough to offer her a blanket to cover herself. Back to the investigation, near who had just called in denied involvement in Takada's abduction. Near had been honest to them so far. Very honest. They agreed that Mello was behind this and Near got the confirmation from Hal that Mello did it. Light asked Near if it is possible to come in contact with Mello but Near said that it is not. Back to Takada again, she was about to take off her undergarments when she asked for the blanket. Insert steamy scenes here. Anyway Mello agreed to it but unknowingly that Takada hid a piece of the notebook under her bra.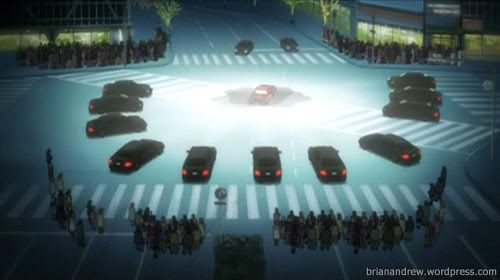 Matt is trapped like a mouse.


Goodbye Matt…


"Stop looking at my boobs!"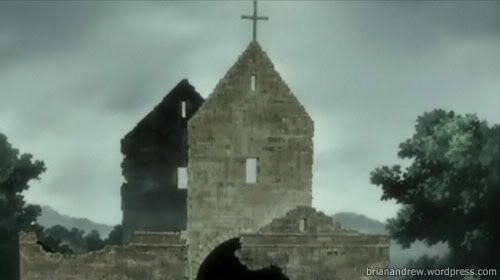 They are doing it at the wrong place.

Mello put up a brilliant disguise as a cargo carrier to bring Takada to an unknown location. On the news, he realised that Matt was killed. Inside the container, Takada was seen writing a name on the piece of the notebook. Later Light got a sudden call from Takada. Takada plead for help and Light asked of her location. Takada was not sure as she is inside the truck but she used road signs to figure out her location. Then Light began to convey some implicit messages to her and Takada confirmed to Light that Mello was killed. Takada kept on crying for help to Light but Light pressed on for her to pass out judgment as usual. Though she seemed unwilling, she still obeys to Light whom she ever hold dear to her. Light decided to bring Ide and Aizawa with him to secure her. Takada called Mikami, instructing to do as much judgment as possible. Mikami assumed that Takada was released by the kidnapper and was not be able to move. So he moved out from his office. Meanwhile Light has confirmed her location at Kuraizawa. Inside car with Ide and Aizawa, Light who seated at the backseat took out the hidden piece of the notebook inside his watch (recall back episode 24) and began to write. Ide and Aizawa was totally not aware of this. Back to Takada, she appeared to have that "reaching enlightenment" kind of look and suddenly a heart beat. Hal rushed to Takada's location but to her dismay, the place was on fire. Light and the rest who just have arrived saw this as well. It turns out that Light wrote down Takada's suicide to burn herself and everything around her.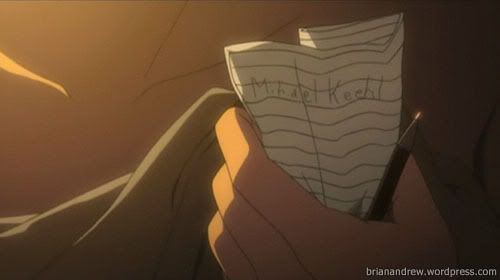 "Gotcha! Michael Keehl."


One down and one to go.


"I can see the light…"


The suicide plan.

The suicide is a similar cover that Light did to Misora Naomi. It seems brilliant but this surely won't go unnoticed by Near and this further puts him in suspicion as Kira. But that would not matter any longer as Near was convinced that Light is Kira and has no need to prove that. Instead he intended to bring Light to a confrontation to reveal his Kira identity and stop him ultimately. This is possible that Near might consider murder though he may suggest that it not how things should work out. Nonetheless, the stage has been prepared and the showdown beckons. The final two episodes will be clear and simple. It is all out battle of Light versus Near. Mello was considered easy as his real name was already revealed in the first place. However this also have casted doubt of how Takada obtained Mello's real name. It can be speculated that Light may have revealed that name to Takada but that will not explain why Light did not kill Mello in the first place and avoid such unnecessary incident. Another thing is the short-lived character of Matt. I'm not sure of how he is portrayed in the manga but we hardly get to know Matt and he died instantly in this episode. It shows that the producers are in a rush to finish of Death Note in the remaining two episodes, which is rather short. It helps none to the viewers to understand the whole events in the final chapters of this anime.