Goodness gracious! The wait is finally over. Gunslinger Girl has returned to the anime scene, now with a different cast and staff. Unlike their previous studio Madhouse, the new studio Artland that is going to undertake this project has to keep up to the good job Madhouse did previously. The obvious pressure given on them would require them to deliver the best nonetheless. If all is not wrong, this sequel will pick up where the first season has left off and will follow closely to the manga. I did not follow the manga, so I have no idea on how will the story goes. Even so, I found that the first season to be quite impressive, mostly impacting on how the characters develop. If prepubescent girls who are trained to kill do not interest you, then I don't know what will.

Gunslinger Girl -Il Teatrino-
Jose and Hirscher are shopping for toys in France to give out their girls, Henrietta and Triela, when the shop owner offered Jose a fitting gift for Henrietta. As the two are on their way back to Rome, they got an urgent call from their agency to return immediately. Upon returning Rome, Jose together with Henrietta, Jean and Rico head out to the city to oversee the situation of the mass protest held somewhere in the downtown area. However their true objective is to sift out the terrorists among the rioting crowd. As Jean and Jose are separating ways to expand their search parameters, Henrietta came to ask Jose if the protesters are terrorist. Jose revealed that the gathering people are just civilian who demand independence of Rome. Suddenly a vehicle behind Jose exploded, knocking him down on the ground. Though there were casualties among the police force, Jose fortunately only have a little scratch on his hand. Henrietta who turned defensive was told to keep her gun down. Looking around their surroundings, they noticed a man in a police riot uniform began to back away from the team and made his run to an unmarked van. So they decided to chase after the van. Priscilla (another member from their team) came just in time and Jose immediately borrowed her moped to go after the runaway van.

Child assassins are getting their TLC.

Jose and Jean

Triela and Hirscher

I wonder if Achmed is responsible for this bombing.
The bomber celebrated his "explosive" success earlier with his comrades inside the van. However their joy short-lived when they noticed Jose and Henrietta tailing on them. One of them tried to get rid off them by shooting them down but was immediately told not to so that they can avoid the public area and lure them to a more quiet residential area where they intend to make the kill. However the terrorist messed with the wrong people. Section Two is a division of Italy's Special Operation Department with the cover of Social Welfare Agency consisting of the Fratello, skilled field agents with highly trained, mechanically modified children who are experts of assassination as their partners. The team had already converged a path for the terrorist where they will be lead into a trap. Rico who is now with Jean asked Jean if she is allowed to kill someone later. Jean decided not have the terrorist dead because they are needed for further interrogation. Triela and Hirscher who are ahead of the path, prepared a little trap for the terrorist. Jose and Henrietta are still tailing the van on the moped when the terrorist began shooting in the quiet neighbourhood. Henrietta returned fire and managed to kill the shooter. The van finally fell to the little trap made by Triela when it got stuck into a manhole. Triela went out and began shooting the terrorist down one by one. Two men managed to escape from the van and head their way to a piazza where Rico is waiting for them. The terrorist thought that they could take advantage of the innocent-looking Rico as their hostage but they were gravely mistaken about it when Rico begin to shoot at them by their leg. One of them tried to run away but Jean managed to stop him.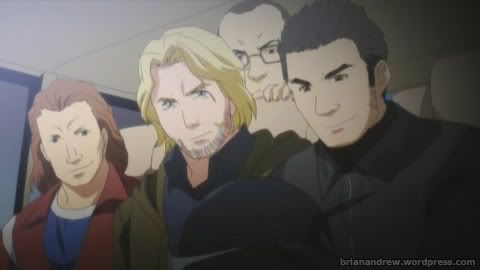 The bad guys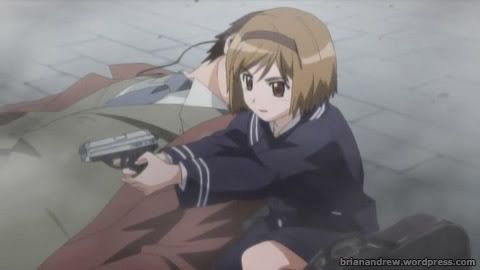 Henrietta in action.

Rico doesn't look so innocent now.
The girls returned to their dorm that night and Henrietta pens down her day in her diary. She then decided to meet Jose but he was not inside the room. Nonetheless she entered to the room and began to look around at his stuff. Seeing Jose's shirt on the bed, she took the shirt and hug it as she lays down on the bed. Obviously her obsession for her master, Jose is evident in this second season of Gunslinger Girl. Call it a child's crush or love but I can only see it as an obsession. It was then she noticed a gift box on the desk. Expecting the present to be hers, she opens the box (I know this is rude but I'd rather not to pick a fight with her) to check its content and found out that it was kaleidoscope. Looking beneath it, she reads the inscription that goes by, "To my beloved person, Louise Antoinette Rolle." She left the room in disbelief and later Jose returns to his room, only to find his present box was unpacked. Henrietta told about what she saw to Triela and Claes. Henrietta suspected Louise to be Jose's girlfriend. However upon hearing the name, Claes told Henrietta that Louise is the name of a 19th century French author's lover and coincidentally the heroine's name of the love story he made is also Henrietta. Claes can only think off that Jose made a great metaphor for Henrietta. Later Henrietta went back to see Jose and the two then took a walk outside the dorm while they gaze onto the starry sky above. Meanwhile Triela found out from Claes that the whole French author love story she told Henrietta earlier is a lie and she added that the love she felt for Jose is an unrequited one.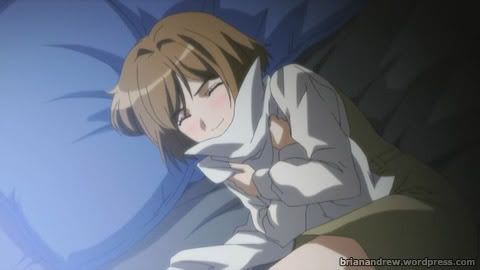 Even little girls have their own fetishes.

You won't want to give Christmas presents to Henrietta anymore.

Claes

Twinkle, twinkle, little star.
Goodness gracious! So much for the high hopes. The first season of Gunslinger Girl is a solid crafted anime, wowing us with their great music scores and animation. This sequel on the other hand, is nothing close of being half as good as the prequel. Indeed the character design and voice cast are different compared to the first one. Judging from these two aspect, the anime is fairly good. It failed to leave an impression on me but it is not too horrible to watch. But horrible is something right down the alley for this Gunslinger Girl sequel. The animation is not solid, animation directing is very bad, voice act is not convincing, BGM is badly composed, lousy OP and ED, and lastly, the less impressive drawing designs. The verdict is clear that Artland failed to succeed a good job from Madhouse. But it is not entirely bad. I like that the writers managed to reintroduce the story and character into this episode, leaving the feeling that we are definitely picking up where the story left off. Maybe I will follow up the story, solely because I am keen to know how the story would end up. However I will not continue blogging on this anime.